Brandon's pair of twin handguns. Cerberus consists of Right Head (Red) and Left Head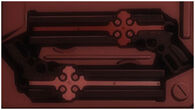 (White). Its barrel length is 60 cm and it's loaded with 15mm caliber bullets, which are even stronger than D-Point in terms of destroying undead.
Cerberus makes its return in The Hellhound of Billion. After realizing the odds Millennion are faced with, Biscoe decides to have the handguns fixed and returned to Brandon. When Biscoe gives one of the handguns to Brandon, Brandon twirls it around his finger, showing how pleased he is to have his old guns back.
The guns have gone missing since the end of the anime. In episode 24, Bunji uses Left Head when Brandon challenges him into a western-style duel. Having his left arm destroyed, Brandon no longer holds Left Head. In the last episode, the Millennion agents find Right Head lying on the ground of Desolation Alley.
Community content is available under
CC-BY-SA
unless otherwise noted.